Background
In order to prevent the spread of COVID-19 infections, it is strongly required to avoid "Three Cs" (crowded places, close-contacts, and closed places) in social activities. This time, we will introduce an example of shooting and distributing an orchestra concert with minimized number of staffs.
Valentine of Love and Combat
On February 14, 2021, the New Japan Philharmonic Orchestra's special performance, the "Valentine of Love and Combat: a symphony for the two", was held at Sumida Triphony Hall. This concert was planned by Yamaha Corporation, which carries out the "Project to Enhance the Profitability of Culture and Arts" advocated by Agency for Cultural Affairs, and online live distribution was conducted under the concept of "multi-perspective switching + high-resolution live distribution." Astrodesign had cooperated with Korg Inc., Internet Initiative Japan Inc., and Nekojarashi Inc., to present new attempts to shoot and distribute live concerts.
Labor saving for shooting 8K cameras
At the venue, the number of staffs involved in the shooting was reduced as much as possible. One fixed-point 8K camera projecting the entire stage from the audience seat, and one 4K camera on the stage for shooting the conductor were installed. Two cameras were remotely controlled from the editorial booth.
Video shot from the front by 8K camera was segmented in HD using a Tamazone Workstation. Beautiful video image can be segmented in real time without deteriorating the image when zooming. We sent out total of 4 perspectives by switching over the following 5 perspectives: (i) a bird-eye view of the stage, (ii) 3 segmented images, and (iii) HD camera on the conductor. This is a system that can be operated by one staff member at minimum, and without the need of a cameraman at audience seat.

Delivering Video and Audio with High Quality
The distribution technology "Lumiere" by Nekojarashi Inc. was used for the video distribution. A four-screen composite of HD images was distributed in the form of 4K, and viewers were able to access from their own devices, such as PCs, tablets, and smartphones, and to select their preferred viewpoints. We believe that the needs of viewers to freely select images in line with own preferences, rather than a fixed view, will continue to rise.
The "Live Extreme" of Korg Inc. was used with audio data. With its uncompressed audio coding technology, we could distribute complex music tones of multi-instrumented composition in a quality close to the original sound.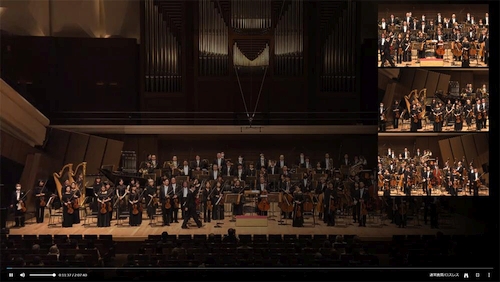 We have received comments from those who watched the distribution:
"I felt fresh to clearly see the performer's expression without a blur, which we don't usually see from the audience seat."
"Enjoyed watching the video I selected for the desired time, and there was no stress of delay when switching the screen."
Astrodesign will continue actively to provide technical support for a rich art experience by utilizing 8K technologies.
Related Products
・8K Camcoder AA-4814-B
・Tamazone Workstation AW-8800
・8K Cross Converter SC-8229
・4K Monitor OBM-U241
Contact Information
ASTRODESIGN,Inc. (USA)
780 Montague Expressway,
Suite 302, San Jose, CA 95131 U.S.A.
TEL: 408-435 7800
FAX: 408-435-7900
info@astro-americas.com
ASTRODESIGN,Inc. (Japan HQ)
1-5-2 Minami-Yukigaya, Ota-ku,
Tokyo, Japan 145-0066
TEL: +81-3-5734-6320