Background
In 2020, the pandemic has forced us to cancel events where people gather, or to hold events without or significantly reduced number of audiences. At this time, we introduce our efforts to realize the new orchestra viewing experience through our 8K high-definition technology.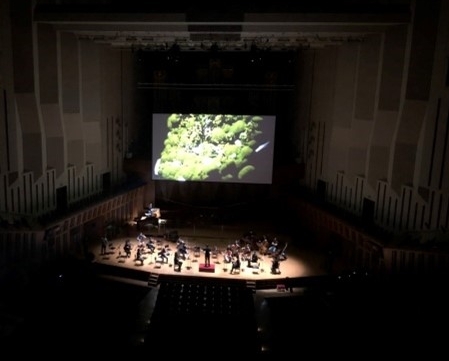 <<_______ Orchestra>>
"Yoichi Ochiai × Japan Philharmonic Orchestra (JPO) Project" team has held four music events since 2018 under the theme of "rebuilding the orchestra with technology". By holding "Music Concert that Do Not Hear", in which people with hearing impairments can feel and enjoy music together, they have been expanding the new appeal and value of orchestra. In 2020, they sought the way an orchestra should be in this Covid-19 crisis and have conducted live concerts and online streaming simultaneously. The title "______ Orchestra" represents the wiped out concerts due to the Covid-19 breakout, and our readiness to seek out new performances therefrom with "trial and error".
ASTRODESIGN has cooperated in providing equipments such as 8K projectors, 8K camcorders, and Workstation "Tamazone" for the event.
Projection of real-time CG videos
We presented a high-definition background video for live orchestra performance. CG images were generated in real time from the workstation "Tamazone" developed by Astro Design and projected on a 500-inch screen with an 8K projector INSIGHT Laser 37000 8K.
Shooting with an 8K Camcorder
Three sets of 8K camcorders were used to shoot 8K archive video. While shooting the archives, two of the devices had down-converted the video to HD using the 8K Cross Converter SC-8229, color graded, and distributed live video streaming. After the performance, the recorded contents were edited and stored in USB memories and delivered to crowdfunding supporters.
"Twin-Born Music Concert"
At the end of the concert, it is revealed that this concert was "Twin-born Music Concert". A new appreciation experience that can only be done online, which is not just an alternative of live performance. A two-pronged world to experience real and online had been presented, where audiences can experience seated and online viewing with different effects.
Comments from audiences who had watched online:
– "The harmony between the music and CG was wonderful, and especially, the CG video was a perfect fit for the latter half of the melody. I thought it was a new type of presentation combining music and art, just as the title."
– "I had enjoyed without going to the place, since it was a good CG presentation and performance with world-class players."
ASTRODESIGN will continue to pursue new visual and music experiences through 8K video technology and contribute to the promotion in the art field.
Related products
・8K Projector INSIGHT Laser 37000 8K
・8K Camcorder AA-4814-B
・Tamazone Workstation AW-8800
・Camera Adapter/Base Station AT-8425/AT-8426
・8K Cross Converter SC-8229
・Optical Interface Unit OE-8440/OE-8441
・8KUSB creation service