Background
8K's features can be found not only in its beautiful image, but also in its overwhelming amount of information.
By shooting images of artworks and historical heritages with ultra-high-definition cameras and displaying them on large 8K screen, we make new discoveries which we have not known when we were looking with our own eyes, and we can pass on their cultural value to many people.
In 2020, Yamanashi Prefectural Museum of Art worked on the "Project for Promoting Cultural Clusters Centered on Museums" hosted by Japan Agency of Cultural Affairs, and has made digital archives of three paintings which it retains, "The Sower", "The Gleaners – summer," and "The Return of Flock", by Jean-Francois Millet.
500 images were taken for one painting, while changing the position of the camera little by little using robot arm.
Combining 500 still images results in equivalent of 135 billion pixels. This is approximately 40,000 times of an 8K image in pixel numbers, about 33 million, which is extraordinary.
What kind of world would we see by processing this unprecedented amount of data in PC and projecting it to 8K projector? Astro Design participated in the screenplay at the museum and in the production of a program by TV-Yamanashi.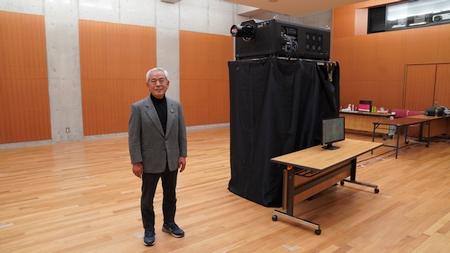 Exhibition of ultra-high resolution Millet works
In February 2021, the Yamanashi Prefectural Museum of Art displayed ultra-high definition 8K images of Millet paintings and behind-the-scenes video on its screen.
8K projector and 8K player were installed in the museum premise. The 8K recorder HR-7518 played back the behind-the-scenes recording. At the same time, PC had processed 135 billion pixels still image data of the paintings. The two contents were projected on a large 200-inch screen with an 8K projector INSIGHT Laser 37000 8K.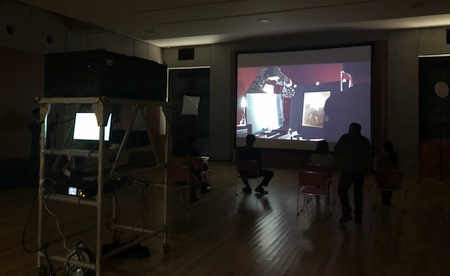 These scenes were broadcasted in March of 2021 as NHK BS8K "Museum Collection, Yamanashi Prefectural Art Museum and Millet". Actress Mayu Tsuruta, Director Aoyagi of Yamanashi Prefectural Museum of Art, its curator Tomoko Ota, appeared in the program and viewed the works touch and materials from a micro perspective. With 8K, we approached the appeals of Millet, who brought an innovation to the history of Western art.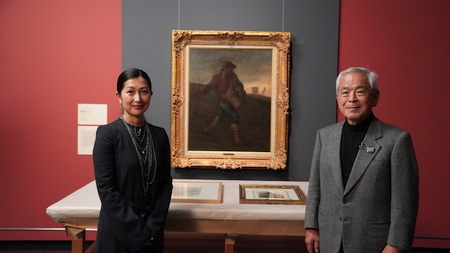 The following comments were made in the program:
"The enlargement made it so clear." "Extremely beautiful." "Really interesting." "The touch of the brush can be seen so clearly."
Yamanashi Prefectural Museum of Arts has installed 8K TV and has started a regular screenplay of 8K contents. We are about to see an era in which 8K can be seen more and more casually. Astro Design will continue to promote the use of 8K contents in the fields of cultural assets and art.
Used equipment and operation
・8K SSD recorder HR-7518
・8K Projector INSIGHT Laser 37000 8K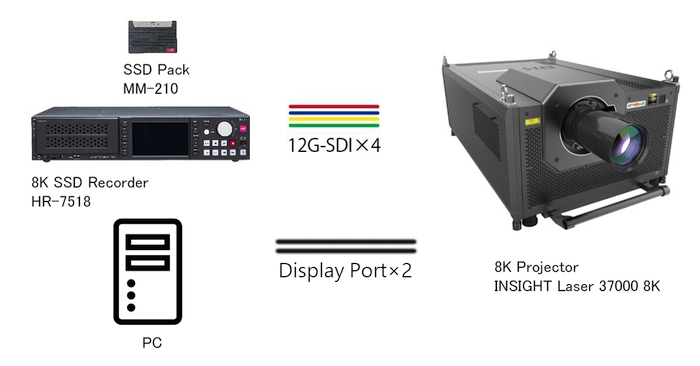 Generated the behind-the-scenes video from an 8K recorder (HR-7518) and displayed 8K contents on 8K projector (INSIGHT Laser 37000 8K). PC displayed still images of Millet paintings which could be zoomed for more detailed images.
Contact Information
ASTRODESIGN,Inc. (USA)
780 Montague Expressway,
Suite 302, San Jose, CA 95131 U.S.A.
TEL: 408-435 7800
FAX: 408-435-7900
info@astro-americas.com
ASTRODESIGN,Inc. (Japan HQ)
1-5-2 Minami-Yukigaya, Ota-ku,
Tokyo, Japan 145-0066
TEL: +81-3-5734-6320