Background
The new 4K8K satellite broadcasting has started in December of 2018, and consumer type of 8K TV products are being marketed. 8K60p video can be viewed in two ways (as of May, 2021): by viewing NHK's BS8K broadcasting channel, or by connecting HDMI cable from PC or other devices to display 8K videos.
When an image with 8K resolution (7680 pixels in horizontal x 4320 pixels in vertical) is calculated in pixel number, it is approximately 33 million pixels. Monitors with 32 to 55 inches, standard size for HD and 4K monitors, do not make much difference in resolution sensitivity, and it is said that larger monitors, like 70 to 100 inches, make the powerful 8K image more refined.
This time, we introduce our activity regarding our cooperation in shooting NHK program by directing 8K video display.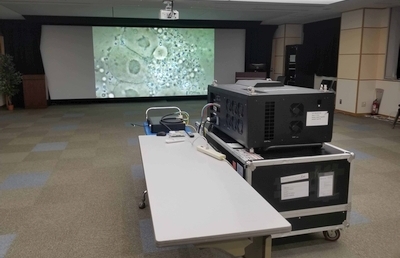 8K Time-lapse Video Display
In spring of 2021, NHK channels BS8K and BS1 (HD) broadcasted a program titled "BS1 Special: Virus Hunt, Time Laps – world's first approach to the Covit-19 with 8K". This was a documentary program of a three-month close coverage of the world's first 8K time-lapse shooting of a cell infected with Covit-19, and the state of giving a preview of the video.
ASTRODESIGN had cooperated in giving preview of the optical microscopic video of an infected cell-interior taken with 8K time-lapse. An 8K projector and reproduction equipment were installed in the auditorium, where the screen is always installed, at the company head office in Yukigaya-otsuka. The recorded video was played back from the 8K recorder HR-7518 and was displayed on a large 190-inch screen using the 8K projector INSIGHT Laser 8K Imaging by ASTRO.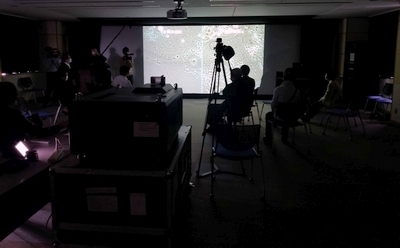 Well-known researchers were asked to see the substance of the mysterious Covit-19 on the 8K screen, and the states of the discussions were broadcasted.
In the program, the following comments were made:
– "8K has made it so clear for the first time. We had seen some of it with PC monitors, but with 8K screen, we can now see what we could not see."
– "Learning what is happening around the virus at the cell level. Trying to see the invisible world through 8K will also lead to scientific progress."
By using 8K projector to display 8K images on a large screen, it is possible to discover what has not been seen and to share such images with many people. Astro Design will continue to promote the use of 8K imaging in the science and medical fields.
Equipments and Operations
・8K SSD recorder HR-7518
・8K projector INSIGHT Laser Imaging by ASTRO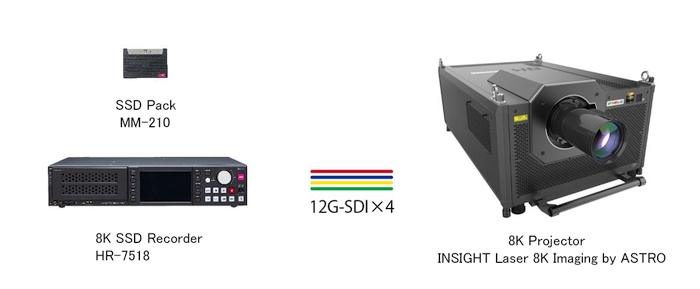 8K time-lapse video was shot and stored in the SSD-pack (MM-210).
Played back the video from an 8K recorder (HR-7518) and displayed the 8K video with 8K projector (INSIGHT Laser 8K Imaging by ASTRO). At the request of the researchers, the video was stopped, rewound, frame-fed, and played at different speeds. It's an operation that can only be done with HR-7518.
Contact Information
ASTRODESIGN,Inc. (USA)
780 Montague Expressway,
Suite 302, San Jose, CA 95131 U.S.A.
TEL: 408-435 7800
FAX: 408-435-7900
info@astro-americas.com
ASTRODESIGN,Inc. (Japan HQ)
1-5-2 Minami-Yukigaya, Ota-ku,
Tokyo, Japan 145-0066
TEL: +81-3-5734-6320