Outline
Video-centric platforms such as Facebook, Twitter, Instagram's IGTV, TikTok, and YouTube are attracting attention as the most influential names in social media. As the performance of smartphones has improved and users' screen time has increased, the need for high-quality content has also grown.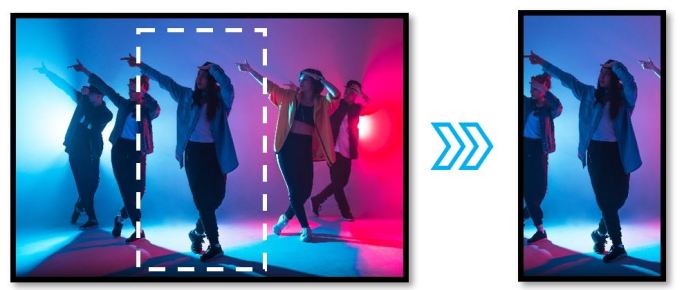 [Full Stage shoot in 8K with AB-4815]                                                                 [Sub-clip cut out using vVertigo]
On the other hand, in South Korea, K-pop artists such as Girls' Generation, BigBang, BlackPink, BTS, and others have a strong influence, and their fans are expanding not only in Korea but all over the world. Fans have long wanted to see higher quality live performances and stage footage, as well as watch cut-out videos of individual group members. An 8K camera is useful for producing these high-quality cut-out videos. By shooting at a wide angle with an 8K camera, you can create high-quality cropped cut-out videos.
8K Camera + vVertigo
ASTRODESIGN, Inc. has received an order for the in-house developed portable 8K camera system AB-4815 and its peripheral devices capable of shooting at 8K 120Hz and 60Hz from the Korean Broadcasting System (KBS), a public broadcasting company in Korea. KBS adopted ASTRODESIGN, Inc.'s AB-4815 camera system to combine with KBS R&D in-house built AI face recognition program vVertigo and create sub-clip videos of K-pop artists.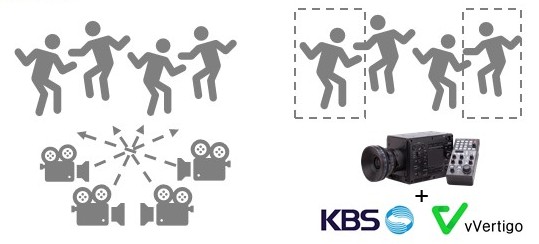 [Traditional Method]                                   [8K Camera with AI Cut-out Software]
The 8K camera features a compact size with external dimensions of 128 mm x 209 mm x 150 mm and a weight of 3.5 kg, providing high portability and intuitive operation. Traditional methods using HD cameras that required multiple units can be downscaled to one 8K camera. In addition to such high portability, we provide customers a convenient on-site production experience, significant cost savings, and the ultimate resource.
The mobile device screen size-optimized high-resolution cropped video created using the above method has been uploaded to the KBS official YouTube channel along with the original 8K shot. It has been watched by fans all over the world and has been attracting attention, gaining a large number of views.
By combining ASTRODESIGN, Inc.'s 8K camera system AB-4815 and KBS's own AI facial recognition cut-out software vVertigo, we can provide broadcasters and content providers with content for new experiences and deliver high-quality content for the use of video content sales or for promotion on social media platforms.
Contact
ASTRODESIGN,Inc. (Japan HQ)
1-5-2 Minami-Yukigaya, Ota-ku,
Tokyo, Japan 145-0066
TEL: +81-3-5734-6320